Here's how you can get NFTs for the Move to Earn app "Wheel Coin" with a very simple process.
(Hurry up as the free period may last until the beta app launch)
How to get NFT for Wheel Coin
Now, let me quickly explain how to receive the NFT.
All you have to do is "join the IOM's DISCORD" and "greet them with an OG request.
Specifically, the procedure is as follows.
I will explain about IOM later.
Participation in IOM's DISCORD
First, join through the IOM's DISCORD link below.
Join the WheelCoin Discord Server!
WheelCoin is a free app that rewards you for traveling more sustainably. Join our community and earn amazing rewards. | 4580 members
If you read and OK the rules within the DISCORD, click the check mark in the VERIFY room.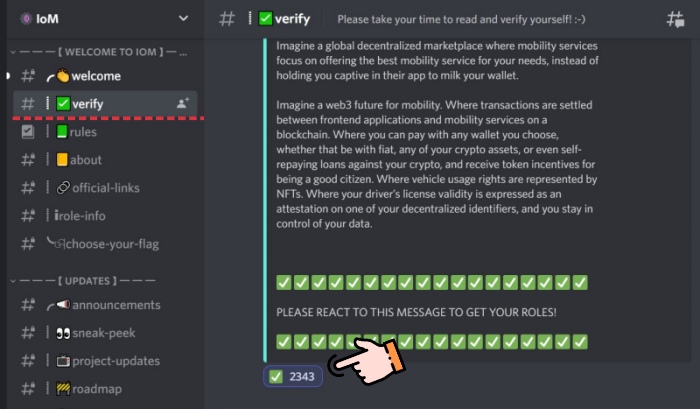 This completes IOM's participation in DISCORD.
Make a request for OG roles
The next step is to request the OG role.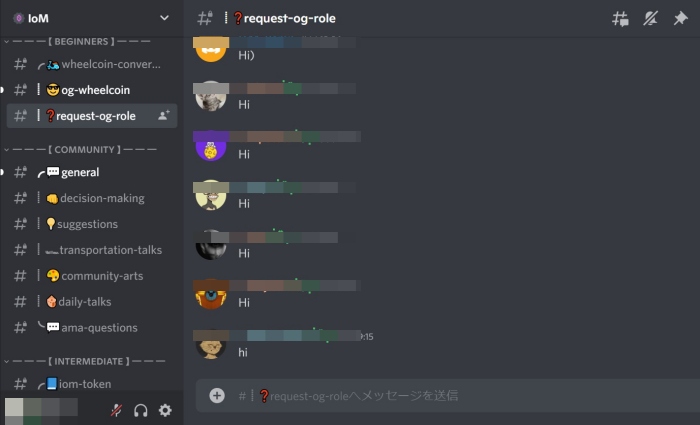 The method is simple: just comment "Hi" in the "request-og-role" chat room.
You will now be granted the OG role and can receive NFTs.
(Your name will change to orange).
What is IOM?
What is the IOM anyway? I did a little research to find out.
To put it briefly, IOM seems to be a company that aims to provide more convenient transportation services by utilizing mobility networks.
For example, when you plan a trip, you can arrange for transportation to the destination, luggage arrangements, transportation at the destination, etc. all at once… And so on.
They also seem to be working to improve environmental issues related to transportation.
Wheel Coin App Predictions
Wheel Coin's app is said to be Move to Earn.
Given that IOM's service is aimed at environmental considerations and centralizing travel transportation, could it be something like the more efficient the mode of transportation, the more profitable it will be?
I think this is a good idea. I think this is a good idea.
Amazing to see in the last 12 hours or so the @IoM_protocol Discord has nearly doubled in size as friends primarily from Asia learned about WheelCoin, our #Move2earn app that rewards users for green mobility choices. There is still room to join the beta https://t.co/2TJFueDW5H

— Boyd Cohen, IoM (@boydcohen) August 28, 2022
In case you're wondering, IOM's CEO tweeted that they will "reward users who choose environmentally friendly mobility.
I don't know how much of this can be replicated in the app, but I'm hoping it will be different from Move to Earn, which has been on a spree lately and is biting.
In the meantime, I don't think it would hurt to get the NFT, so I'll join DISCORD and leave a comment.
Join the WheelCoin Discord Server!
WheelCoin is a free app that rewards you for traveling more sustainably. Join our community and earn amazing rewards. | 4580 members