Introducing WeelCoin, a Move to Earn application that is free to play and earn tokens if you have a smartphone.

Click here to download
What kind of app is WeelCoin?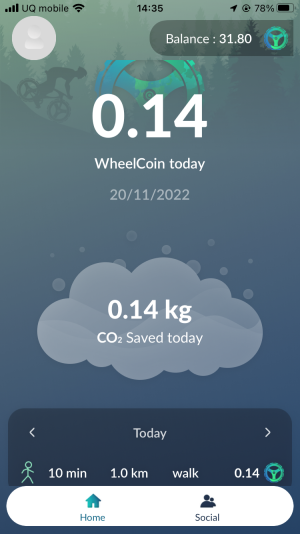 WeelCoin is a Move to Earn application.
However, like the famous STEPN, there is no need to purchase NFT at the beginning, and anyone can easily start earning money.
How do you earn tokens?
Earning tokens with WeelCoin is very easy.
After downloading the application, simply launch it and turn on the location setting.
Then, in the background, it measures your movements so you don't have to do anything.
All you have to do is go about your normal life and earn tokens.
I said there is nothing in particular to do, but there are conscious and efficient ways to earn money.
What if I want to make more money?
If you want to earn WeelCoin tokens efficiently, you should be aware of the means of transportation.
We have now confirmed "WALK, CAR, TRAIN, and BUS", which are not shown in the image.
You can earn more tokens in a TRAIN>BUS>WALK relationship.
Note that WeelCoin's theme is carbon reduction, so no matter how much you move in CAR, you will not earn.

Click here to download
How much money can you actually make?
The amount of WeelCoin I earn, in my case, I earn 0.14 for a 20-30 minute walk every day.
We do not know exactly how many dollars that will actually be because as of November 2022, the tokens have not yet been issued.
But most tokens have an opening price of about $0.5.
This may never be an app where you can make a lot of money.
However, it is free to start and you can earn tokens without doing anything, so there is no harm in trying it anyway.

Click here to download